Parents, what will get your kids through the tough times?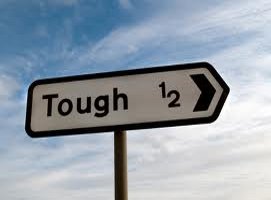 One of our jobs as parents is to get our kids to stand on their own two feet.
We can't JUST teach them to follow us, we've got to teach them how to navigate this world, how to survive when we aren't there to pick them up when they fall down.
We had a Dedication Service at church this morning!  We were giving thanks for the safe arrival of a lovely baby boy and his parents were making promises to teach their son about Jesus.  We love these services!
In all the joy and celebration, we need to remember that as this boy starts his journey in life, we have no idea what ups and down lie ahead of him.  His parents and god-parents, we as his church family can only to our best to help equip him.
We cannot predict his path, but we can help equip him for it.
We cannot stop the tough times from coming but we can do our best to get him ready.  We can't protect him from all the hurt and pain - but we can teach him to find hope in Jesus.
We were looking at this verse this morning about God's Word...
16 All Scripture is God-breathed and is useful for teaching, rebuking, correcting and training in righteousness, 17 so that the man of God may be thoroughly equipped for every good work.
If we want to THOROUGHLY equip our children, God's Word is the place to go.  God's Word is the place to go because it takes us right to Jesus.  It is our job and our privilege to share the Bible with our children, to teach them while they are young, that one day they might stand on their own two feet, even through the tough times.
Check out the pod-cast below for the Dedication Service...